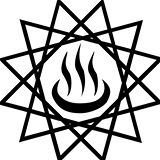 Hellenion is a Hellenic polytheist organization that began online with the intent of drawing together the classical Pagan community to promote fellowship, free exchange of ideas, scholarship, and spirituality. On April 24, 1999 Hellenion had its humble beginnings as a Yahoo group. In May, 2001 we incorporated as a religious nonprofit in the state of California, and by the end of the year had established three local congregations. We attained 501(c)(3) status in September 2002.
We are named for a Greek temple set in a foreign land; as most of us are not natives of Hellas, we are still as committed as any born there to the ancient Greek gods. We do not feel that heritage is necessary to be involved in Hellenic spirituality; our gods choose as they will and we are Hellenes in spirit.
Our Mission Statement is entitled "What We Mean by Hellenic Pagan Reconstructionism." It is based on a similar statement from another reconstructionist organization devoted to ancient Celtic studies called IMBAS. (We are grateful to the leadership of IMBAS for permission to use and modify their statement.)
As a non-profit organization, we gladly accept donations from those willing to contribute to the cause of honoring the Hellenic gods .
It has come to our attention that some of you may have been directed here because of a link from another site (ie., Church of Hellenes). Please be aware that although we support our Hellenic Pagan co-religionists around the world, and are sympathetic to the plight of those who live in countries where they face oppression, Hellenion does not advocate culture wars or bloodshed as a means of advancing the religion of the Gods of Olympus. Nor do we support those Hellenic Pagan organizations which support racism, misogyny, homophobia, or discrimination of any kind.