Baked Kolokithokeftedes (Zucchini Patties)
Serves: 6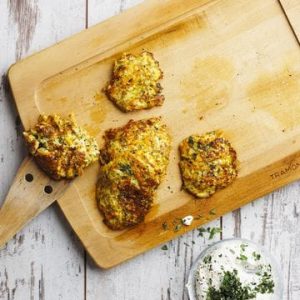 Hands-on: 25 minutes
Total: 3 hours 45 minutes
Difficulty: Easy
Ingredients
3 medium zucchini, trimmed and grated
1 tsp. salt
6 Tbsp. extra-virgin olive oil, divided
6 scallions, ends trimmed and finely chopped
1 clove garlic, peeled and minced
1 large egg, beaten
2 Tbsp. chopped fresh mint
1 Tbsp. chopped fresh dill
1 Tbsp. chopped fresh parsley
½ cup breadcrumbs
¼ cup Graviera or Gruyère cheese
½ cup crumbled feta cheese
½ tsp. pepper
1 Tbsp. baking powder
Directions
Put the zucchini and salt into a colander. Cover the colander with plastic wrap and place it over a bowl to catch the drained water. Refrigerate the zucchini for at least 3 hours. Squeeze any remaining liquid from the zucchini with your hands or wring out in a clean tea towel. Try to get the zucchini as dry as possible.
Preheat the oven to 425°F. Heat 3 tablespoons oil in a medium skillet over medium heat for 30 seconds. Add the scallions and garlic and cook 5–7 minutes. Take the skillet off the heat and allow the scallion mixture to cool.
In a large bowl, combine the cooled scallion mixture, egg, mint, dill, parsley, breadcrumbs, Graviera, feta, pepper, and baking powder. If the mixture is too wet, add a few more breadcrumbs. If the mixture is too dry, add a little more oil.
Using your hands, form the zucchini mixture into small patties, each about 3 inches wide. You should have enough for twelve to fourteen patties. Place the patties on a greased baking sheet and brush the tops with the remaining oil.
Bake for 8–10 minutes on the middle rack. Flip the patties over and bake for another 8–10 minutes or until they are golden. Serve them warm or at room temperature.
---
From: https://www.smithsfoodanddrug.com/r/baked-kolokithokeftedes-recipe/133114