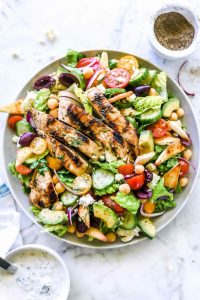 Greek Chicken Gyro Salad
Serves 2
Ingredients:
6 cups chopped romaine lettuce
1 8-ounce Greek Marinated Chicken Breast, sliced or chopped (marinade recipe is here)
1 15-ounce can garbanzo beans, drained
1 cup cherry tomatoes, sliced
1 cup sliced cucumber
½ avocado, chopped
¼ cup sliced kalamata olives
¼ cup sliced red onion
2 pita bread pockets
Canola oil spray
Paprika
¼ cup extra virgin olive oil
¼ cup red wine vinegar
1 clove garlic, peeled and minced
2 teaspoons oregano
1 teaspoon sugar
½ teaspoon each of kosher salt and freshly ground black pepper
Homemade Tzatziki sauce (recipe is here) for drizzling
Instructions:
Add the lettuce to a large serving bowl and top with the sliced chicken, garbanzo beans, tomatoes, cucumber, avocado, olives and red onion.
Cut the pita breads into triangles and spray with canola oil. Sprinkle with paprika and toast until golden. Sprinkle with kosher salt.
To make the dressing add the olive oil, red wine vinegar, garlic, oregano, sugar and salt and pepper to a small canning jar. Top with the lid and shake well until blended and emulsified. Season with more sugar and salt and pepper to taste.
Drizzle the dressing over the salad and toss to taste. Drizzle with the tzatziki as desired.
From: https://www.foodiecrush.com/greek-chicken-gyro-salad/