Festival Crescents
from The Book of Greek Cooking by Lesley Mackley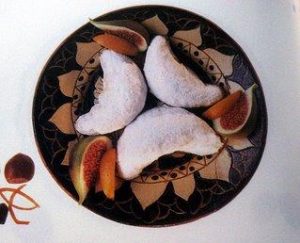 4-1/2 ounces hazelnuts
1-1/4 cups unsalted butter, softened
1/4 cup superfine sugar
1 egg yolk
2 tablespoons brandy
1/2 cup cornstarch
2-1/2 cups all-purpose flour
Orange-flower water
Powdered sugar
In a food processor, chop nuts finely, without reducing to ground hazelnuts. Preheat oven to 350F (175C). Butter 2 or 3 baking sheets.
In a bowl, cream butter and superfine sugar until pale and fluffy. Beat in egg yolk and brandy. Stir in hazelnuts. Sift cornstarch and flour over mixture. Stir in, adding more flour, if necessary, to make a firm dough. With floured hands, break off small pieces of dough and roll into 3-inch pieces, tapering into pointed ends. Shape into crescents; place on baking sheets. Bake 20 or 25 minutes or until firm. Reduce heat if cookies brown. Transfer to wire racks to cool.

Into a small bowl, pour orange-flower water. Into a large bowl, put powdered sugar. Dip crescents very briefly into orange-flower water, then into powdered sugar, to coat completely. Pack loosely in a pan to avoid cookies sticking together.
Makes about 40.