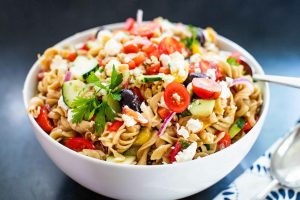 Greek Pasta Salad
Ingredients
For the lemon olive oil dressing:
1/3 cup fresh squeezed lemon juice (from 2 to 3 lemons)
1 tablespoon lemon zest
2 cloves garlic, finely chopped
2 tablespoons finely chopped parsley
1/2 cup extra virgin olive oil
1/2 teaspoon fresh oregano (optional)
1/4 teaspoon salt
1/4 teaspoon pepper
For the pasta salad:
1 pound rotini pasta, or other pasta shape of your choice
1/2 small red onion, quartered and thinly sliced
1 red pepper, finely diced
1 pint cherry tomatoes, halved
1/2 cup pitted Kalamata olives
1/2 cup crumbled feta
1 cucumber, quartered and sliced
1/4 cup parsley, roughly chopped
Salt and pepper to taste
METHOD
Cook the pasta and drain: Bring a large pot of heavily salted water to a boil. Add the pasta and cook pasta until al dente. Immediately rinse in cold water until the pasta is cool to the touch.
Soak the onions: Soak the slices of onion in cold water with a pinch of salt. After 10 minutes, drain the water from the onions.
Make the dressing: In a small lidded jar, shake all the dressing ingredients together. Taste and add more seasonings to taste.
Assemble the salad ingredients: In a large bowl, mix together the cooled pasta, drained red onion, peppers, tomatoes, olives, feta, cucumber, and parsley. Toss gently with 1/4 cup of the lemon olive oil dressing and mix. Add more dressing, in small increments, as needed. You may not use all of the dressing, but it stores well in the fridge for about a week. Season with salt, pepper to taste.
From: https://www.simplyrecipes.com/recipes/greek_pasta_salad/