Greek Potato Bites with Hummus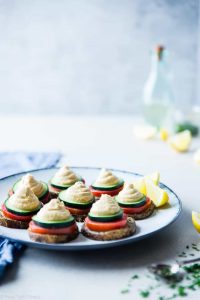 Makes 6 Servings
Prep Time 10 Mins
Total Time 35 Mins
Ingredients
1½ pounds of russet potato, washed
4 teaspoons of extra virgin olive oil
4 teaspoons of fresh garlic, minced
2½ teaspoons of Ground oregano
1½ teaspoons of ground basil
1½ teaspoons of ground thyme
½ teaspoon of sea salt
– pinch of pepper
1 cup of Sabra Classic Hummus
2 teaspoons of Lemon zest
2 Large Roma tomatoes, thinly sliced
1 Large Cucumber, thinly sliced
– Minced parsley, for garnish
Directions
1. Preheat your oven to 400 degrees and lightly spray a cookie sheet.
2. Slice the potatoes width-wise into 1/3 inch thick slices. Use a paper towel to gently press out the excess moisture from the slices and place into a large bowl.
3. Pour the olive oil, garlic, oregano, basil, thyme, salt and pepper over the potatoes and stir until evenly coated.
4. Place the potatoes in a single layer on the prepared sheet and bake until fork tender, about 20 minutes.
5. While the potatoes bake, stir the hummus and lemon zest together, seasoning with a pinch of salt and pepper.
6. Top each potato slice with a slice of tomato, then a slice of cucumber, sprinkling the cucumber with a pinch of salt. Finally, divide the hummus between the slices and sprinkle with parsley.
From: https://sabra.com/recipes/greek-potato-bites-with-hummus.html