Greek Quinoa Bowls
Bring big, bold Greek flavors to the dinner table with this meal full of protein and crunch.
Prep: 15 minutes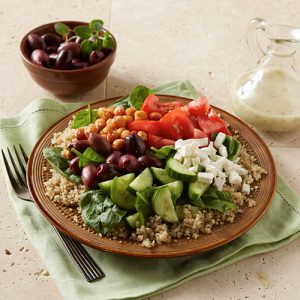 Cook: 45 minutes
Total: 1 hour
Ingredients
2 cans (15 oz.) garbanzo beans, drained, rinsed and dried
2 tablespoons canola oil
1/2 teaspoon garlic powder
1/2 teaspoon smoke paprika
1/4 teaspoon fine salt
2 packages (10 oz.) frozen quinoa, prepared according to package directions or 4 cups cooked quinoa
4 cups spinach
1 cup diced tomatoes
1 cup diced cucumbers
1 cup crumbled feta cheese
1/2 cup Kalamata olives
Bottled Greek vinaigrette
Directions
Step 1
Heat oven to 400°F. On a rimmed baking sheet toss beans with oil.
Step 2
Roast 45-50 minutes, stirring occasionally, until beans are brown and crisp. Toss with garlic, paprika and salt; cook an additional 2-3 minutes. Allow to cool.
Step 3
To assemble, divide quinoa and spinach in serving bowls. Top with garbanzo beans, tomatoes, cucumbers, feta cheese and olives. Drizzle with desired amount of dressing. Refrigerate leftovers. Tip: Once cooled to room temperature, crispy garbanzo beans can be stored in an airtight container at room temperature for up to a week. These bowls can be served with quinoa warm or cold. To make this meal vegan leave off the feta cheese and select a vegan vinaigrette.
From:
https://www.smithsfoodanddrug.com/r/greek-quinoa-bowls-recipe/59b03b5084aee06a8aabe31b