Heliogenna Cookies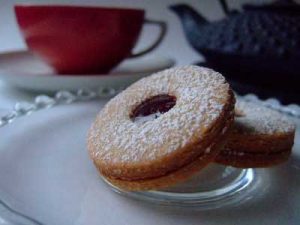 Recipe submitted by Cara
Since I celebrate the Heliogenna Festival – I like to make decorations and treats that represent Helios in some way.
These cookies are pretty much the best cookies ever on the face of the planet. And they are beautiful! The color, the shape, the bright red or orange jam peeking though the top cookie, the cloves or saffron hinting at warmer weather to come – IMHO, perfect cookies. And I ONLY make them for the Solstice as gifts for those I love.
It looks like there is a bunch of steps, but that's just because the directions are very detailed.
---
Ingredients:
1 1/2 cups finely ground almonds, hazelnuts or walnuts (without the skins)
1 1/2 cups all-purpose flour
1 1/2 teaspoons ground cinnamon
1/4 teaspoon salt
Scant 1/4 teaspoon ground cloves or 6 saffron threads
2 large eggs
2 sticks (1/2 pound) unsalted butter, at room temperature
1 cup sugar
1/2 cup raspberry jam or strained apricot jam
Confectioners' sugar, for dusting
Instructions:
Preheat the oven to 375 degrees F
Whisk together the ground nuts, flour, cinnamon, salt and cloves.
Working with a stand mixer, preferably fitted with a paddle attachment, or with a hand mixer in a large bowl, beat the butter and sugar together at medium speed until smooth, about 3 minutes, scraping down the bowl as needed.
Add the egg mixture and beat for 1 minute more.
Reduce the speed to low and add the dry ingredients, mixing only until they disappear into the dough. Don't work the dough much once the flour is incorporated. If the dough comes together but some dry crumbs remain in the bottom of the bowl, stop the mixer and finish blending the ingredients with a rubber spatula or your hands.
Put the dough into the fridge, covered, for about 1 hour.
Working with some of the dough at a time while keeping the rest in the fridge, grab a rolling pin and roll out the dough until it is about 1/4 inch thick.
Using a round cookie cutter to cut out as many cookies as you can. Keep doing this until you have used all of your dough.
One 1/2 of the cookie, use a smaller round cookie cutter to cut out a small hole in the center of the cookies. You can use the scrapes to either make small cookies or to make more larger cookies.
Bake the cookies one sheet at a time for 11 to 13 minutes, or until the cookies are lightly golden, dry and just firm to the touch.
Transfer the cookies to a rack to cool to room temperature.
Lightly dust only the cookies with the hole cut out with the confectioners sugar.
On the cookies without a hole, spread about 1/2 teaspoon of the jam in the center of each cookie. Put a cookie with a hole cut out on top to make a sandwich.