Prayer to Ares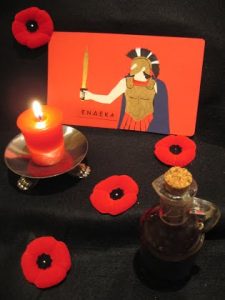 by Melissa
Ares, god of strength and unrelenting power,
You are the force who empowers heroes of every kind,
Soldier, police, fire fighter, all
Who risk their lives for us,
Who combat all threats,
We come to this precinct before you
In this month of remembering our fallen
Defenders, our dear ones
who forfeited their lives for ours
and those yet living who daily face death.
Accept our thanks for encouraging
These brave ones, for leading
Them when they must act.
Accept this ritual, this libation
This fragrant offering,
Honoring your protection, your
Leadership, your spirit within us
Whenever bold action and courage
Are necessary.
Yet be you ever on guard but not needed among humankind.