Artemis Cake
from The Book of Greek Cooking by Lesley Mackley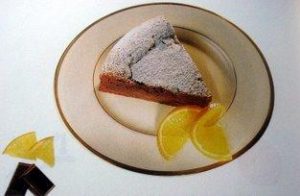 14 ounces semisweet chocolate
5 eggs, separated
1 cup butter, softened
3/4 cup powdered sugar, sifted
2 tablespoons all-purpose flour, sifted
1 teaspoon ground cinnamon
Extra powdered sugar, to decorate
Preheat oven to 350C (175C). Butter and line an 8-inch cake pan with waxed paper (preferably a loose-bottomed pan). Into a bowl, break chocolate. Stand bowl over a pan of hot water until melted. Leave until almost cold.
In a bowl, whisk egg whites until stiff but not dry. In another bowl, beat butter and powdered sugar until light and creamy. Beat in egg yolks. Stir in chocolate. It does not need to be thoroughly mixed.

Stir in flour and cinnamon, then fold in egg whites. Pour mixture into prepared pan. Bake 45 minutes or until firm to the touch. Leave in pan until almost cool, then transfer to a wire rack. Sift powdered sugar over the top and place on a serving plate.
Makes 8 servings.