Greek Spinach Pie in Potato Crust (gluten free)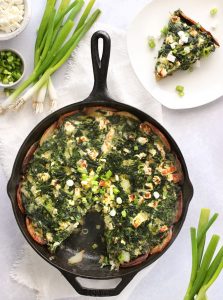 A crust of golden sautéed potatoes encases a filling of spinach, onions, garlic, eggs, herbs and feta in this delicious Greek Spinach Pie. The recipe is all cooked in one skillet that goes from oven to table. It's vegetarian and gluten-free.
Serves: 6-8
Ingredients:
4-6 tablespoons olive oil, divided
2 pounds russet potatoes. (Choose 4 or 5 large, oblong potatoes so you get lots of rounds when you slice them crosswise and so the circumference of the rounds is less than the height of the sides of your skillet.
2 tablespoons unsalted butter
2 medium yellow onions, peeled and diced
2 large garlic cloves, minced (1 tablespoon)
2 pounds of fresh spinach leaves and tender stems (remove any tough thick stems), roughly chopped
1 bunch of green onions, trimmed and thinly sliced, white and light green parts only
1/4 cup fresh dill, chopped
3 large eggs, whisked
8 ounces of good quality Feta cheese, cut into 1/4-inch cubes
1 teaspoon kosher salt plus more, to taste
1/2 teaspoon ground black pepper plus more, to taste
1/8 teaspoon ground nutmeg (optional)
Optional Garnishes:
4 green onions, thinly sliced
2 ounces crumbled or diced feta
INSTRUCTIONS
Preheat oven to 375ºF. You will need a large (10-12-inch) cast iron or oven-ready skillet, with a lid or with foil to cover it.
Prepare The Potato Crust: Peel the potatoes and slice them crosswise into thin rounds about 1/8-inch thick. Line a plate with a double layer of paper towels. Heat 2 tablespoons of oil in the skillet over high heat until hot. Reduce heat to medium and cook potatoes in batches, as many as will fit in a single layer in your pan, for 2 minutes per side until browned in spots and softened. Transfer potatoes to the paper-towel-lined plate to drain. Sprinkle them with a pinch of salt and a few grinds of pepper. Repeat with remaining potatoes, adding oil to the pan as needed and layers of paper towels to the plate, as needed.
Prepare The Filling: Wipe out the skillet you used for the potatoes. Melt the butter in the skillet over medium heat. Add onions and cook, stirring occasionally, until tender and translucent, 5-6 minutes. Add garlic and cook, stirring, for 1 minute. Turn up the heat to medium-high and add the chopped spinach, a few handfuls at a time, stirring and tossing each time you add a bunch, until it's wilted enough to add another bunch. Repeat until all the spinach is wilted, 5-7 minutes. Transfer the spinach-onion mixture to a large bowl. Gently tip the bowl over the sink and pour off any excess liquid. When the spinach mixture has cooled for ten minutes or so, add the rest of the filling ingredients: green onions, dill, eggs, feta, salt, pepper and nutmeg, if using. Toss to combine.
Assemble The Spinach Pie: Again, wipe out your skillet and lightly oil or butter the sides and bottom. Arrange potato slices on the bottom and around the sides of the skillet, overlapping them slightly to create a solid crust.
Pour the spinach filling into the prepared crust and use the back of a spoon to spread it out evenly. Bake, covered with foil, for 20 minutes. Uncover and bake for 20 minutes longer until the filling is set and the edges of the potatoes are browned.
Slice pie into eight wedges and serve warm or at room temperature. Garnish with sliced scallions and crumbled feta, if you like.
From: https://www.panningtheglobe.com/greek-spinach-pie-in-potato-crust/