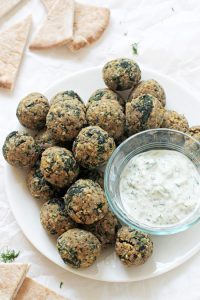 GREEK VEGETARIAN MEATBALLS
PREP TIME: 25 MINUTES
COOK TIME: 30 MINUTES
TOTAL TIME: 55 MINUTES
Baked greek vegetarian meatballs! Simple, healthy, protein packed and freezer friendly! Made with chickpeas, walnuts, spinach and sun-dried tomatoes!
INGREDIENTS:
FOR THE MEATBALLS:
2 (15 ounce) cans chickpeas, drained and rinsed
¼ cup raw walnut halves
¼ cup minced red onion
¼ cup minced sun-dried tomatoes (pat them dry first!)
¼ cup packed fresh parsley leaves
4 large cloves garlic, roughly chopped
½ teaspoon lemon zest
juice of ½ a medium lemon
8 ounces frozen chopped spinach, thawed and squeezed dry
1/3 cup oat flour (or all-purpose or white whole wheat)
½ to ¾ teaspoon fine sea salt
¼ teaspoon pepper
1 large egg, lightly beaten
DIRECTIONS:
1 Preheat the oven to 350ºF. Line a large baking sheet with parchment paper and set aside.
2 To the bowl of a food processor, add the chickpeas, walnuts, red onion, sun-dried tomatoes, parsley, garlic, lemon zest and lemon juice. Pulse until the mixture is well combined and finely chopped. Scrape down the sides of the bowl. Add the spinach to the bowl (break it up with your fingers first!) and pulse until combined and the mixture pulls away toward the sides of the bowl.
3 Transfer the mixture to a large bowl. Add in the flour, salt and pepper. Mix until combined and the flour is mostly absorbed, then taste and season with additional salt / pepper as needed. Add in the egg and mix again until well combined (if the mixture is too wet to form into balls, add additional flour 1 tablespoon at a time. Don't add too much, or you'll dry them out!)
4 Form the mixture into balls about 1 ½ inches in size (a cookie scoop works great here) and place on the prepared baking sheet. Bake for about 27 to 30 minutes, until firm and lightly browned.
5 Serve with homemade tzatziki and / or pita bread!
---
From: https://cooknourishbliss.com/2018/01/24/greek-vegetarian-meatballs/