Tomato and Feta Frittata
Hands-on: 10 minutes
Total: 10 minutes
Serves: 3
Ingredients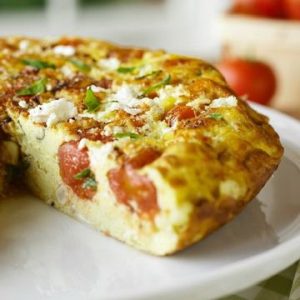 6 egg whites
3 large eggs
½ cup crumbled feta cheese, divided
2 large tomatoes, chopped
½ tsp. salt
¼ tsp. ground black pepper
1 Tbsp. chopped parsley
Directions
Step 1
Place egg whites and whole eggs in a medium bowl and whisk together.
Step 2
Add the 4 tablespoons and feta, tomatoes, salt, and pepper to the eggs and whisk together.
Step 3
Place mixture into a small skillet coated with cooking spray over medium heat and cook for 4 minutes or until eggs are firm. Do not stir.
Step 4
Flip and cook the other side for 2 more minutes. Top with remaining feta and parsley.
From: https://www.smithsfoodanddrug.com/r/tomato-feta-frittata-recipe/172603