Veggie-Packed 3 Bean Greek Salad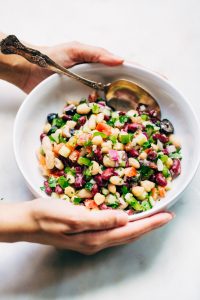 10-12 servings
Ingredients (Salad):
1 (15-ounce can) kidney beans
1 (15-ounce can) cannellini beans
1 (15-ounce can) garbanzo beans
1 cup cucumbers, diced
1 cup tomatoes, diced
1 green bell pepper, diced
1/2 red onion, diced
1/2 cup black olives, sliced
1/2 cup crumbled feta
Ingredients (dressing):
1/2 cup olive oil
1/4 cup lemon juice
1/2 teaspoon dried oregano
1 tablespoon dried basil (optional)
1 teaspoon Dijon mustard
1 teaspoon sugar
salt and pepper
Directions:
Dressing: Add the ingredients for the dressing in a mason jar along with a big pinch of salt and pepper, shake to combine. The dressing can be prepared up to two days ahead of serving.
Salad: Rinse and drain the beans and place them in a large bowl along with all the other salad ingredients. Drizzle with the prepared dressing right before serving and season with additional salt and pepper to taste.
---
From: http://littlespicejar.com/three-bean-greek-salad/