To Aphrodite
by Hearthstone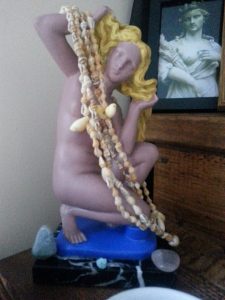 I praise you, Aphrodite, goddess born of foam.
Fairest of all Olympus' maids, always precious
jewels adorn you, silks drape your unparalleled form.
With sweetly scented hair you come, your sea-green
eyes
shine as stars, and all fall at your delicate feet.
You, who looks so kindly on lovers, I praise you.
You, who answers prayers of longing, I praise you.
You, whose gifts entrance all, young and old, I praise
you.
You, who brings sweet bliss, who comforts the bereft,
who binds souls together, no heart can deny you.
Aphrodite, whose beauty would light the night sky,
I praise you and thank you for blessings given.
Copyright © 2007, Hearthstone