Recipe for Koliva
This is the traditional "food for the dead" that was put out on the third day of Anthesteria. The family would have put some out and would have eaten it as well.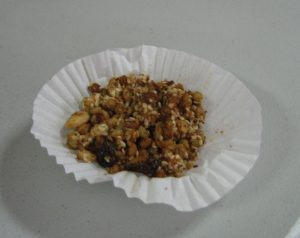 Ingredients:
1 kg soft wheat kernels, often called 'wheat berries' (about 4 cups)
1 kg barley (about 4 cups) (This dish can also be made with rice but that is less traditional.)
500g Ground almonds (roast lightly, 5-7 minutes in a 400F oven, stir once or twice)
250g Whole blanched almonds
1kg Sesame seeds (roast lightly)
500g Raisins
5 Tbsp ground Cinnamon
1 kg Honey
Method:
1. The day before the ritual, soak the wheat and barley until soft. Rinse and drain the grains. Put in large pot and cover with water. Bring to a boil then lower the heat. Cook for about 1 hour. Do not overcook so that the grains explode but make sure grains are soft enough to eat.
2. Pour the hot grains into a large or two smaller colanders to drain.
3. Rinse thoroughly with cold water until the cooking has stopped.
4. Once the grains have cooled, drain and spread on cookie sheets to dry (this can be done overnight in the fridge). When dry (or next morning), transfer grains to a large bowl and add the lightly roasted ground almonds, the lightly roasted sesame seeds and some of the whole blanched almonds. (Reserve the rest of the almonds to decorate the koliva.) If you mix these ingredients together the night before the ritual, cover the mixture with a wet towel, so that the composition won't dry out on top.
5. The day of the ritual: add raisins and cinnamon and mix well. Transfer the mixture to a decorative plate or bowl.
6. Place a piece of waxed paper on top of the mixture and press the grain/seed mixture firmly into the bowl. Form a small mound. This signifies a grave.
7. Sprinkle the mound with more cinnamon, until the sacred smell rises up to greet the nostrils.
8. Drizzle honey generously over the grain/seed mixture.
9. Decorate the surface of the Koliva with the reserved almonds (and raisins if you wish).
10. Keep refrigerated at all times until it is served!
This amount will serve over 60 people. There will probably be enough to put some of the koliva in small cups ahead of time to serve at the festive meal or you can serve right from the decorative bowl. If there is any leftover, it's traditional to send it home with those present. Koliva freezes well and warmed up slightly makes a great breakfast cereal. It is also traditional to strew some of it on gardens or fields and to leave small amounts on graves for ancestors.